Norwegian and Greek music students link hands and share sounds over the internet
Transmissions is a special Norway-Greece programme between Ultima Festival in Oslo and the Onassis Cultural Foundation in Athens with various presentations in Norway and Greece. It is an artistic university exchange project involving students from the Universities of Oslo and Athens. Focusing on the limitations, possibilities and mutations that occur during modern technological collaboration, the project celebrates cross-border cooperation. The music departments at the two universities connect over the internet and the students at the Oslo and Athens ends collaborate to compose new works to be performed in concert venues and over the network.
---
Concert at Sentralen, Oslo | 23.09.2021 | 16.00
The students worked in pairs, one student from Athens and one from Oslo. Four of the pairs started composing and performing together online in spring 2021 before coming together for intensive workshops and rehearsals during the Ultima 2021 festival. Two of the pairs have worked exclusively online and also perform in the concert via network link between Oslo and Athens.
All of the pieces have taken inspiration from the challenges and possibilities in transmitting ideas and communicating from a distance and in close proximity online. And all of the pieces have engaged in various ways with forms of cultural exchange, taking inspiration from the language, nature and traditions of Greece and Norway.
Given the covid-19 situation and uncertainty regarding travel, the "Duo" pieces have all engaged with creative ideas about how to deal with distance and proximity. Τhe final piece of the concert is an interactive collective work for all participants involved, in which the performers produce sound upon taking cues from a graphic score displayed on a large screen.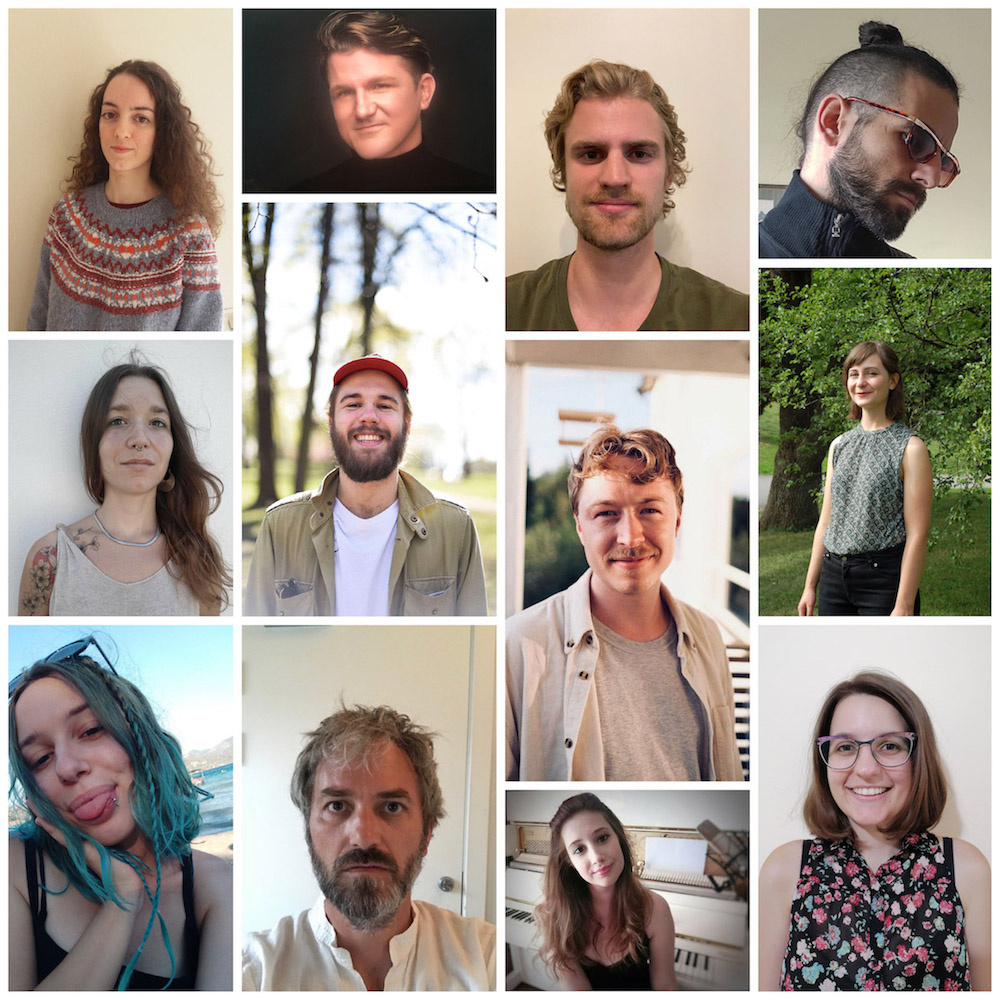 Students from Athens: Fotis Rovolis, Maria Katsipi, Penelope Bekiari, Panagiota Anastasopoulou, Anna-Maria Christodoulou, Gabriel Farilekas
Students from Oslo: Mari Lesteberg, Sebastian Fongen Langslet, Christian Lerbo, Anders Salomon Lidal, Søren Hunskaar, Elias Gram-Nilsen
---
Programme notes
1. Proximity | by Penelope Bekiari & Mari Lesteberg, for voices & live electronics (Super Collider / Pure Data, loopstation)
The nature and language of two different countries are expressed and blended together to tell a story about communication. The words of two poems are used to learn how to talk together and to explore the importance of silence, sound and proximity.
Poems expressed in the piece:
Gunvor Hofmo - Dette er Våren
"Πληγωμένη Άνοιξη [Wounded Spring]"- Miltos Sachtouris
2. First Snow | by Anna-Maria Christodoulou & Sebastian Fongen Langslet, for piano & live electronics (SuperCollider)
This impressionistic piece takes inspiration from nature and the dynamics of a snowstorm. The form commences with just a few snowflakes before climaxing in a full out storm, and clearing up in the end.
3. Untitled #4 | by Fotis Rovolis & Anders Salomon Lidal, for analog and digital electronic sources
Recording snippets of sound from the worlds he visits, Fotis returns home to Athens to process his travels, both mentally as well as by working with the sounds he collects, using granular synthesis, delays and frequency shifting tools. In Oslo, Anders spends time trying to tame his test-equipment, sometimes resulting in unheard sounds, and at other times silence. This duo combines two different approaches to music; one starts in the familiar world and abstracts it, whereas the other starts with the abstract trying to familiarize it. Together they might create some kind of balance.
4. Stala | by Penny Anastasopoulou & Søren Hunskaar, for bass & live electronics (SuperCollider)
This piece is named after the greek word "stàla" that means "trickle, raindrop". It is made for live electronics and bass guitar with effects from pedals. The vibe it emits is an ambient atmosphere that evolves and becomes denser as the time goes only to dilute again at the end as it never was there. There are improvisational elements as the interaction of sounds leads to some different choices each time, without losing its mysterious and intense yet calm and effusive character as it reaches every corner of the room.
5. From Fear to Hope | by Elias Gram-Nilsen & Gabriel Farilekas, for electric guitar & electronics (Max/MSP)
Part one of this two-part piece attempts to express some of the existential fears of the human condition (from deadly viruses, terrorism, war, insecurity, to displacement and more). The second part seeks to depict the timeless feeling of hope that keeps humanity going. At the end, hope for a better tomorrow always wins through!
6. Vágr Dóros | by Christian Lerbo & Maria Katsipi, for electric guitar, piano & electronic sounds
The title, Vágr Dóros, comprises the norse word Vágr meaning wave, and the greek word Dóros meaning noise—Wave Noise. We started working with a sample of an ocean wave, which can be heard during the entire composition. The thought of working with the sound of ocean waves as a concept also has a parallel to music as a sort of ocean of sound waves. It was also thought of as a discussion of the meeting between nature and technology, between acoustic sounds and electronic sounds, just like oceans today are filled with both natural and technological phenomena.
7. Radar v.1 | by Orestis Karamanlis, for any number & any kind of instruments
Radar (ver.1) is an interactive notation system, allowing a single user –the maestro- to organise an ensemble of instrumentalists and to communicate information to the members by means of an interactive window –a disc- projected on a surface visible to all. This is a collaborative piece, the structure of which has emerged through a dialogue with the whole ensemble of 12 performers, all students at the Universities of Oslo & Athens:
Christian Lerbo: guitar | Maria Katsipi: piano | Anna-Maria Christodoulou: bells | Sebastian Fongen Langslet: electronics | Penelope Bekiari: piano | Mari Lesteberg: electronics | Penny Anastasopoulou: electronics | Søren Hunskaar: bass & electronics | Elias Gram-Nilsen: guitar | Gabriel Farilekas: electronics | Fotis Rovolis: electronics | Anders Salomon Lidal: flute & electronics
---
Output
The team has documented the project through a written report, an online digital release with student works and a short video documentary with interviews and excerpts from the rehearsals for the concert in Oslo.
---
Project Leaders: Orestis Karamanlis, Peter Edwards, Stefano Fasciani
Technical Assistants/Facilitator: Henrik Haraldsen Sveen, Kyriakos Papadopoulos, Kostas Katsantonis, Giorgos Dousis
Coordinators: Anastasia Georgaki, Christos Carras, Thorbjørn Tønder Hansen
The project "Transmissions" is coordinated by Onassis Stegi (Greece) in partnership with Ultima Oslo Contemporary Music Festival (Norway) with the support of the EEA Grants and the Norwegian Financial Mechanisms 2014–2021.
---